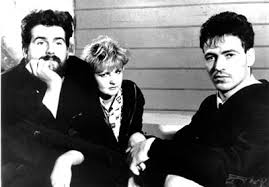 ORIGINALLY PUBLISHED IN WELSH  IN  O'R PEDWAR GWYNT FOR WELSH MUSIC DAY (FEB 9TH 2018)
WITH MANY  THANKS TO EDITOR (s)  SIONED PUW ROWLANDS AND ANGHARAD PENRHYN JONES (and all bands concerned).
Writing in the sixties, American poet Frank O'Hara playfully encouraged the 'Mothers of America' to send their kids to the movies. He reasoned that doing so meant they would not get stuck in their room 'hating you prematurely since you won't have done anything horribly mean yet' (Ave Maria) . If O'Hara had lived to see the 1980s, and been Welsh speaking, these lines might have been updated to: 'Mamau Cymru plis gadewch i'ch merched fynd i gigs Cymdeithas yr Iaith'.(Mothers, let your daughters go to the Welsh Language Society's gigs)
I grew up in a part of West Wales which in the early 80s had an ambivalent relationship to the Welsh language. Welsh bilingual education was still an experiment. The 11+ existed to partition kids. English language music culture was king. If you went to the new out area bilingual school, you also became a bit of a novelty. Clad in a heavy Welsh wool pink and black striped tunic, I was taunted sometimes as a 'Welsh Nash'. Such was the cultural self-hatred in my part of the world.
I transitioned from a ska post-punk primary school soundtrack to a Welsh language music culture at secondary school, dominated by dated rock. My abiding impression of Welsh language music at this time (82-85) was that it seemed very masculine and hairy. There was in short little to appeal to a new romantic teenager who had posters of young men wearing makeup on her bedroom wall. The lithe men in these posters offered impressions of sexuality and glamour I could sense, but could not touch Spaces I had yet to visit. Their heavily painted faces told me very little about daily life in West Wales.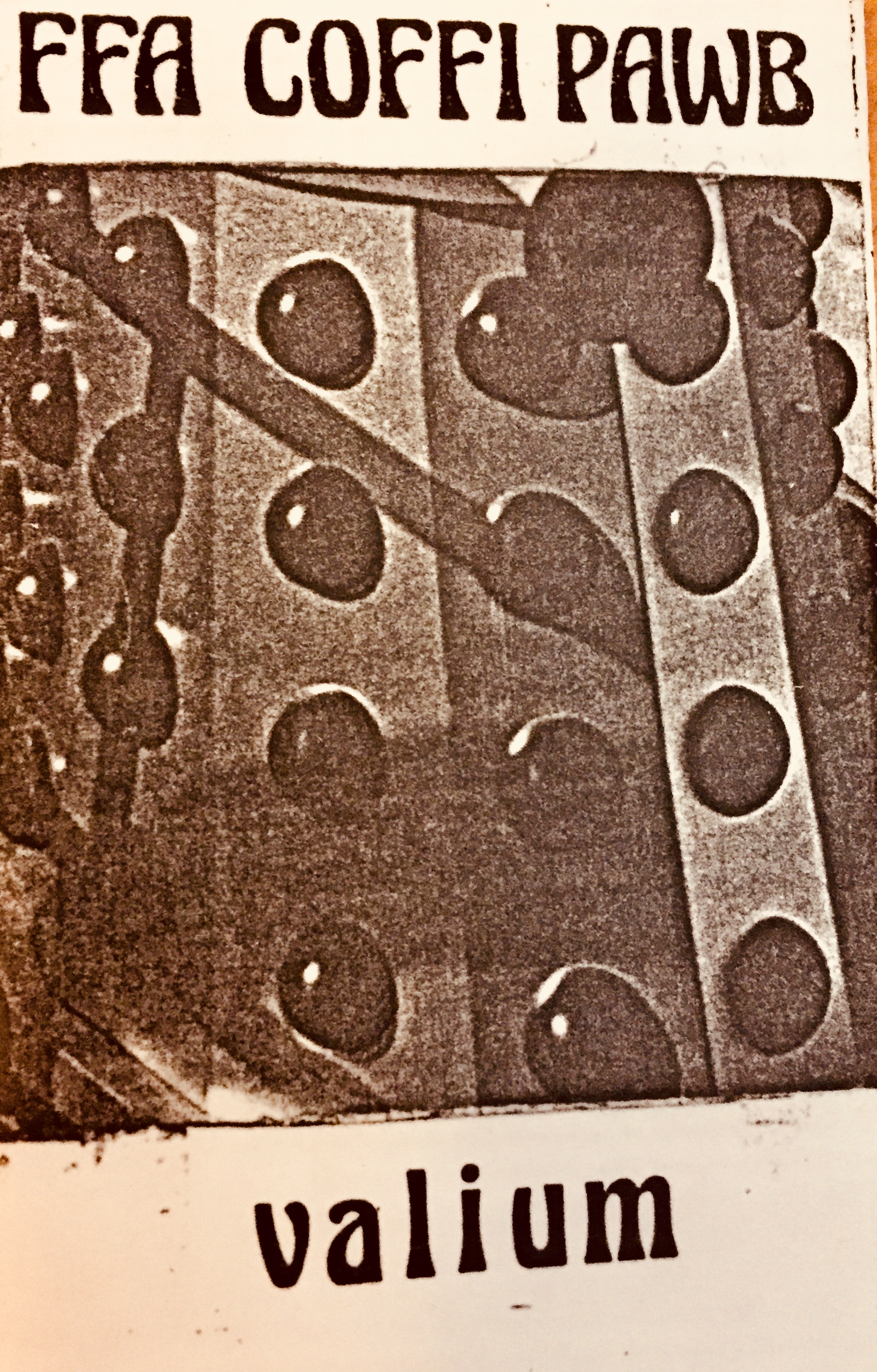 When I was fifteen something changed. I put that down to the the activity of the school's Cymdeithas yr Iaith group. The older students started producing a political newsletter wonderfully entitled Brych ecs Collwyn ap Tango. This title which gradually get more and more convoluted during its brief history. In it was information about the political campaigns of Cymdeithas as well as reviews of music and gigs. An advert for a compilation animal rights EP caught my eye Dyma'r Rysait (1987). I ordered it and encountered for the first time Datblygu, Crisialau Plastig, Plant Bach Ofnus and Eirin Peryglus. The iconoclastic nature of the lyrics is what first hit me, particularly Datblygu's surreal vignette 'Brechdanau Tywod', which is about schoolteachers boasting about eating snails on their summer holidays in France. I also warmed to Crisialau Plastig's retort that they never wanted to be a band living in Cardiff, done while playing toy instruments (somewhat ironically). I then got to listen to Brodyr y-Ffin, a band based in Chester, who experimented with synths, guitars and violins. Perhaps the idea of liminality is what first appealed in these bands, their play with the Welsh language and often geographical outsider status. Their concept of 'tafodiaeth'  (dialect of the tongue) was linked to ideas of creativity, irony and puns. This was a tafodiaith that had ­not atrophied into the jokes of middle of the road TV programming. Around this time I also was given an LED clock radio, which initiated me into John Peel's late evening community. I got my hands on a double tape recorder to make very fuzzy recordings of what I liked on the radio. I copied the tapes made by other initiates into this cult of iconoclasm, synths and guitar noise. This is how I got to hear Y Cyrff's Dan Y Cownter and their cry to the BBC 'Anwybyddwch Ni', Traddodiad Ofnus's depiction of postindustrial South Wales 'Hunagofiant' and Ffa Coffi Pawb's hymn to valium on Dalec Peilon.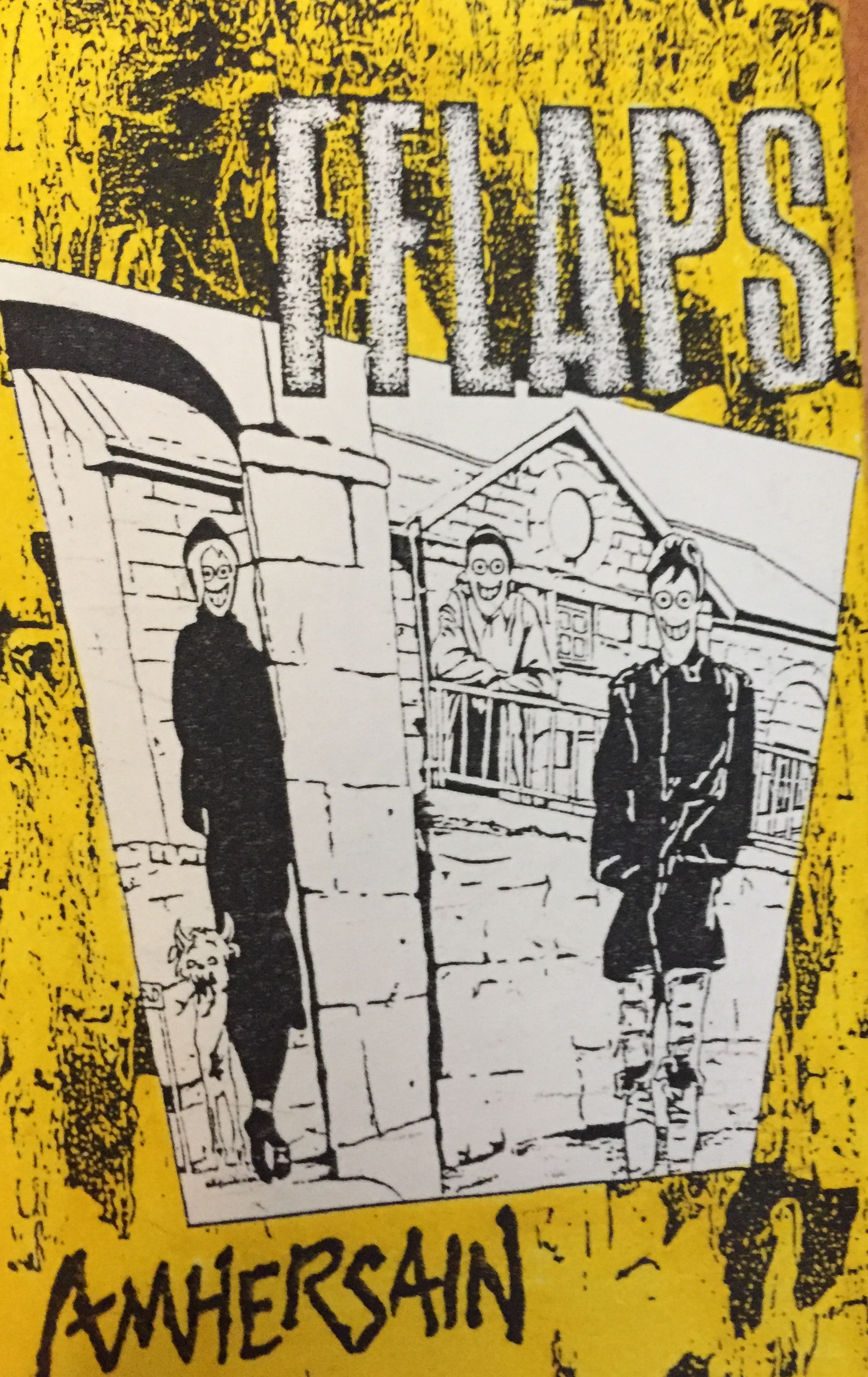 The relationship between Welsh Language music and John Peel's programme is now well documented. But something that has been underestimated was the impact that those early Cymdeithas yr Iaith gigs had on teenagers living far from any metropolis. These gigs were often held in old country mansions that had been turned into hotels, or out of the way community centres. Buses would be put on by Cymdeithas to make it possible to attend. Reflecting on this time what strikes me was the degree to which young women arranged gigs, but never performed in them. Few women were in bands themselves. Parents were happy to support anything that was conducted through the medium of Welsh. This gave women freedom to experiment. Underage drinking was crucial (I suspect) to the revenue of some of these country venues. We were young wannabe sophisticates, heavy on the eyeliner, customising our clothes from charity shops and backcombing our fringes. Preparing for these gigs was a cabaret of sorts. No mention was made of cigarette smoke or whiskey breath on our pick up by parents- since our experiment was part of the fabric of keeping Welsh contemporary. However, excessive drinking did become a problem to listening. I was there to listen. Such were the battles between bands and a hostile drunken audience that Datblygu even penned a song 'Bar Hwyr' specifically to taunt them.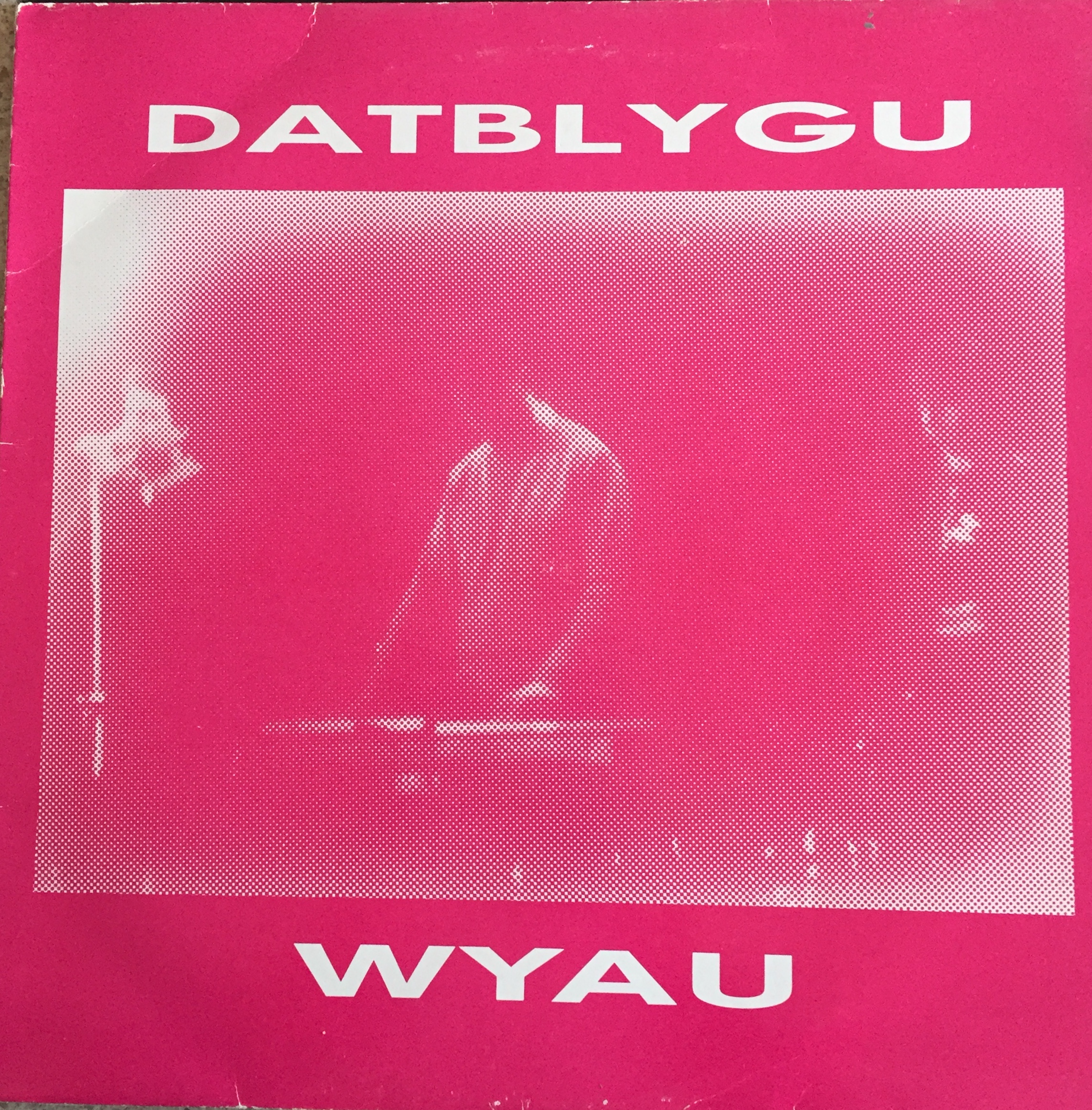 The 1980s saw the growth of Welsh language music programme There were some well intentioned, but awkward TV experiments such as HTV's Stid which attempted to repackage the format of C4's The Tube but with schoolchildren. I travelled in a bus to Croes Cwrlwys, as part of Stid's audience to see Datblygu play 'Cristion yn y Kibbutz'. Kids were desperately being encouraged to dance to it. My abiding memory is of sound recordists and cameramen exasperated by their music. Finding albums entailed research and SAEs. My dearest memory of exploring Welsh music in the 80s was the summer of O levels revision. The doorbell went one weekend afternoon and my mother ushered in 'a friend'. It was Pat of Datblygu! She had popped in on her way to Laugharne to deliver the Wyau LP and Hwgrgrawthog EP I had ordered by mail. A little dumbstruck, over orange juice I chatted with Pat about seeing their support to Y Brodyr in A Cymdeithas gig in Cwmtawe, made possible by a friend's sister recently having passed her driving test. I had watched in fascination as Dave Datblygu spent five minutes sampling a hairdryer on stage and telling the audience that the lead act was boring, and the audience boring too. There was a wonderful sense of Dadaism and anarchy about those 1980s gigs. They offered a real challenge to the elements of parchusrwydd (respectability), which dominated so much of Welsh Culture.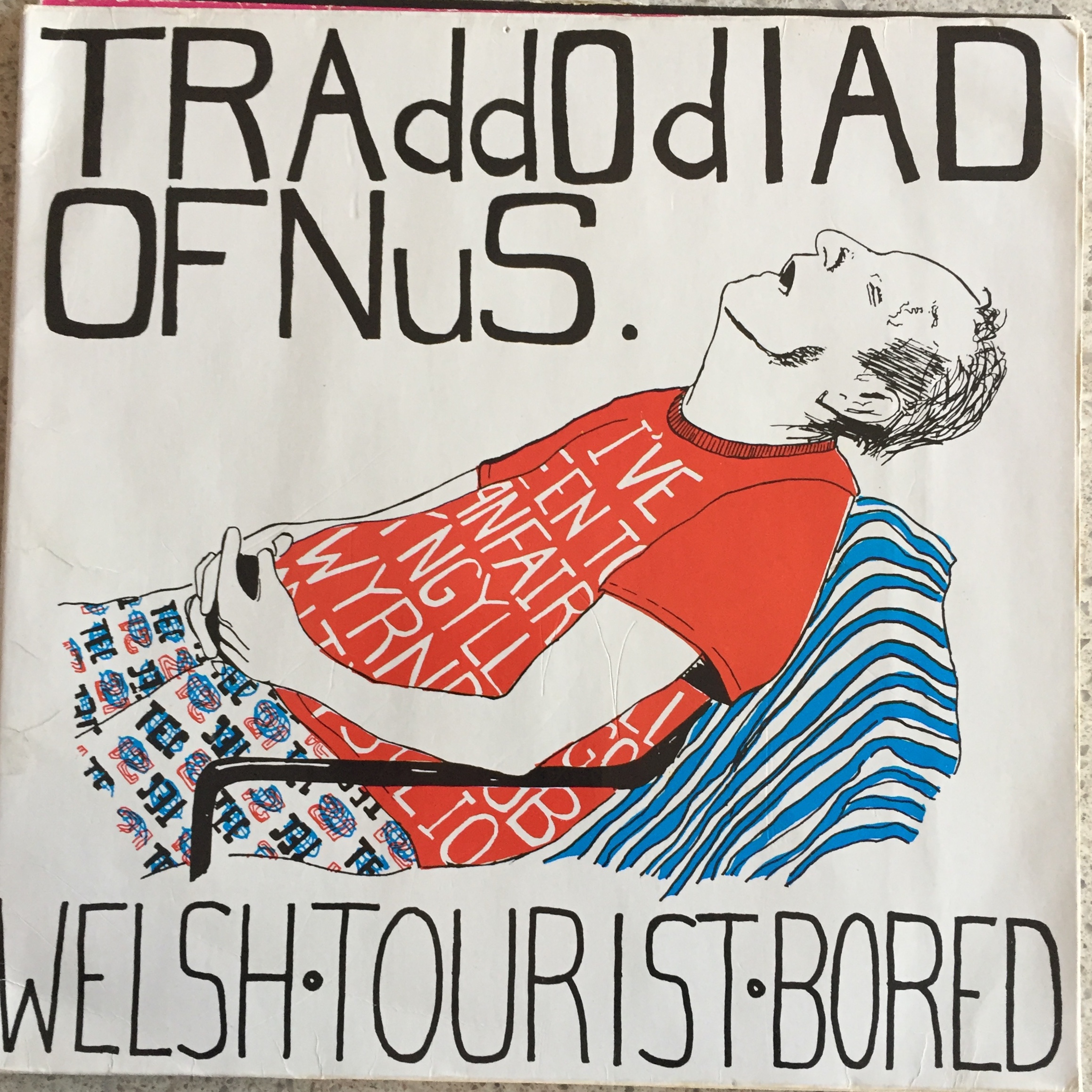 In the late 1980s Fideo 9 on S4C with is wonderful androgynous presenter Eddie Ladd pushed boundaries. It was great seeing Ladd present with passion and interview bands with fierce intelligence. Also it was a relief to watch bands with strong female leads like Fiona Owen of Eirin Peryglus and Ann Mathews from The Fflaps performing in videos and asserting a space for non-rock female personas. Before the web, encountering Fideo 9 felt like the finding of a virtual community. It represented a kind of outsider Wales which was vibrant and questioning. In these broadcasts I encountered the dub reggae pop of Llwybyr Llaethog, the malleable beats of Pop Negatif Wastad, the guitar riffs of The Crumblowers and Traddodiad Ofnus's love letters to socialism set to dance music. Crucially Fideo 9 made Welsh language music seem a relevant part of a global community. Datblygu could be cued between Le Mystère Des Voix Bulgares and The Sugarcubes. Like the cassettes received I through SAEs, these VHS tapings formed a personal library that travelled with me. Welsh language music felt international, innovative and relevant. It would however take the mainstream music newspapers some time to adapt to this situation. In the late 1980s reviews of Welsh bands in The NME were still littered with tiresome and patronising references to Tom Jones, male voice choirs and Harry Secombe. Welsh bands' own cultural reference points in interviews opened up a broader archive. Paradoxically it was through bands such as Datblygu, Ffa Coffi Pawb and The Fflaps that I developed a knoweldge and love for bands and figures such as The Fall, PIL, The Jesus and Mary Chain, The Slits and Patti Smith.
Writing this, thinking about Welsh language music day, I am grateful to those 1980s bands who were never able to get any sustainable income from their music, but did it anyhow. I thank those bands who loaded their vans and cars, went cross-country in the cold and rain to visit run down country hotels. I hug those band members who having travelled on B roads, played to a drunken audience. I acknowledge those experimentalists who often faced jeering or apathy. I salute the women who organised gigs and Cymdeithas cells tirelessly. I carry this archive of outsider voices with me (with recent updates).